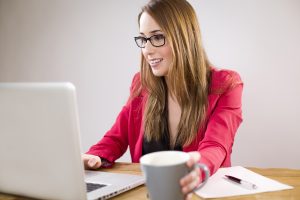 It is very important that you work with your district regarding their acceptable use policy and services they have available for student information, record keeping as well as communication platforms.  Your district may already have forms and protocols set up that you can follow.  Here is additional information for your consideration:
---
---
Forms & Documentation:
(Some of these are just examples of forms you can use.  Please share any forms you are using that have been helpful.)
---
Things to Consider When Providing Mental Health Supports On-line: 
Webinar Summary Notes from SSWAA & SSWN Webinars and elsewhere:
Informed Consent

ALWAYS get written permission to provide Telemental health services.  Note:  Any contact could quickly turn into a "counseling session".
Prior permissions for services at school DO NOT apply.
Parents who can't sign, scan and return should date it and send it back to you by email.  Keep documentation/email.
Students who are 18:  Get Parent and student permission to be in compliance with HIPPA and FERPA
Form asks for emergency address which may be different than the address of record with the district but can be used in case if an emergency.

General Guidelines

Set and work during normal work hours unless absolutely necessary.

Let your students and parents know your work hours.
Be sure to care for yourself.

DO NOT use your personal email or  cell phone number.
DO NOT use social media to contact students/parents. i.e. Facebook, Snap chat, Instagram, etc.
Use district communication system:  Google Voice,  Google phone, Google Hangout.  (Check YouTube for videos on how to use.)
Using ZOOM:  Be aware of Zoombombing.
If you have to use your phone, hit *67 before dialing to hide your number.
Use your district email address.
Use district's student information to contact students or parents.
Assess what you can ask your district to do in order to do your job.

Assess Media Options for Students & Parents

Do you have high-speed internet access at home?
What devices do you have at home?
Does your child spend significant time in another home or away from home?  
Is someone available to help your child online?

Presenting  Sessions 

Practice using your virtual systems with colleagues before using with students/parents to work out any kinks.
Always dress professionally when doing session.s
Empower students to help determine time and means of communication.
Use Google Calendar to set times with older students.
Set boundaries with students, groups and parents just as you would if in person.
DO NOT RECORD ANY OF YOUR CONTACTS or SESSIONS   

(Any recordings would create an educational record subject to FERPA.)

Turn off recording option for students on your platform.
Set this boundary and expectation with your students and parents just as we try to maintain in our in-person groups or sessions.
Build norms with youth that they can't/shouldn't do other kinds of phone recordings/screen shots that is a virtual violation of confidentiality and privacy.
 "I would like you to make me a promise that you will not record this or take pictures of this session".  Dr. Jim Raines.
Note:  Ultimately, "You cannot be responsible for what your students do.  You can only control what you can control."  Dr. Jim Raines.

Always use an agenda when talking to someone.  (Provides structure for you and your students/parents as well as documentation of services.)

Always use an agenda for Tier 2/3 Groups.   See Example.
Email agenda ahead of time for groups.
Keep agendas and notes as documentation.

Before your first session, ask for an emergency contact to only be used in crisis situations you can keep on file.
Always first assess how students and their families are doing before moving into any agenda.
Encourage students to have a routine/schedule/place to do school work.

Crisis Planning 

Before your first session, ask for an emergency contact to only be used in crisis situations you can keep on file.
Always verify their location at every session in case there is a crisis situation.  "Where are you today?.. in case anything comes up in our session that you or someone else is at risk or needs an ambulance."
Reach out to local hospitals  to find out which hospitals are doing suicidal assessments remotely.
Determine your network of school and community police contacts for possible wellness checks.
Determine a network of mental health providers offering remote therapy/assessment.
See Page 9 of Hernandez powerpoint for examples of Suicidal and Homicidal Ideation Plans.
School Social Work Service Plan:   

Show your district how YOU are providing services.

Tonya also provided a "Clark County 1 Page Service Plan"  outlining how school social workers will provide services in their district.
---
 Resources:
---
Webinars Related to Telemental Health Services

Frequently Asked Questions from COVID-19 Webinar
19 pages of Important Information  3/26/2020
See additional Webinars Related to School Social Work Practice and COVID-19. 
---
Association of Social Work Boards Guidance: 
(Worried about compliance with your license?)
Information provided via Phil Koehl, former Illinois Association of School Social Workers (IASSW) Executive Director.  He is also the Chairperson of the IDFPR SW Examining and Disciplinary Board (Illinois).  4/7/2020.  Association of Social Work Boards.
---
Response Resources: 

NYSSSWA Membership Dollars At Work
The New York State School Social Workers' Association (NYSSSWA) is the only professional association dedicated solely to the visibility and viability of School Social Workers in New York State.   Members are essential to our ability to support you and our profession.  If you are not a member, join us today so we can continue to provide advocacy and services on your behalf.
Learn More About The Benefits Included in a Membership!