Ruth Schwartz School Social Worker of the Year Award
Ruth Efron Schwartz was a School Social Worker who bettered the profession of School Social Work.  She believed in the importance of School Social Workers as well as helping the children and families in her care. Ruth often went the extra mile, including delivering coal to families' homes when needed. Ruth was a founding member of the New York State School Social Workers' Association (NYSSSWA).  She was responsible for picking the organization's colors i.e. blue to encourage students to reach for the sky, and white to encourage School Social Workers to be pure and true in their work with children.
In her honor, the Ruth Schwartz Award is given each year to a School Social Worker who exemplifies the qualities that Ruth Schwartz demonstrated throughout her career as a School Social Worker. The award reads "in appreciation to your commitment to the field of school social work and your dedication to the children and families we serve."
If you would like to nominate an outstanding School Social Worker who is dedicated to helping the children and families in his/her care as well as to advancing the School Social Work profession, please submit a Nomination Form.
---
2019 Awardee:  Paul Dischiavo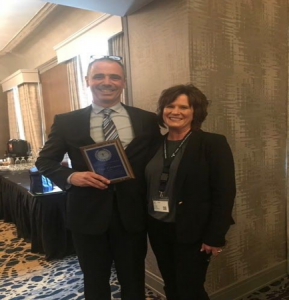 This year, Paul Dischiavo was selected as the 2019 recipient of the Ruth Schwartz School Social Worker of the Year award. Paul has spent the last two decades dedicated to the Mohawk Valley Region, his community, and his profession. He began his career as an elementary School Social Worker in the Sauquoit Valley Central School District and he remains there as the leader of the School and Wellness Community. His principal, Mark Putman describes his as "a constant wealth of knowledge who is student-centered and brings a much-needed perspective in how best to help students to be successful."
At the community level, Paul has been instrumental in designing and co-authoring the Oneida Herkimer Madison BOCES School Crisis Response Plan which has been implemented in numerous local and regional school districts. For years, he had headed the School and Community Work Group which is a collaborative effort that provides mental health school providers and community-based organizations the opportunity to meet regularly and learn what each has to offer.
Paul believes strongly in the future of the School Social Work profession and goes above and beyond in taking personal responsibility for advancing the profession. Every year, he supervises multiple college interns and provides them with an intense, hands-on learning experience and works to challenge them to their fullest potential.
In his free time, Paul owns and operates his own thriving private practice, specializing in children and teens. He is a husband, a dad and is actively involved in coaching a variety of youth soccer teams.   As a colleague and a mentor to so many, he can always be counted on to take the lead in meeting the endless needs of his students, families and his local community. He is relatable, reliable, driven and dripping with enthusiasm.  Congratulations!
---
2018 Awardee:Joan Conti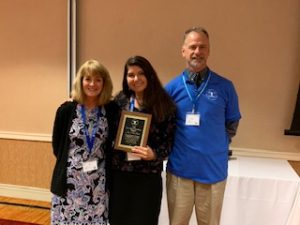 Peg Barrett and Tim Hummell award Joan Conti with the 2018 Ruth Schwartz School Social Worker of the Year Award.
---
2017 Awardee:  Jaye Murray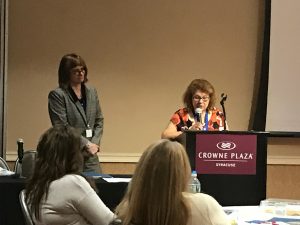 Julie Beatrice awards Jaye Murray with the 2017 Ruth Schwartz School Social Worker of the Year Award.
Jaye Murray, Executive Director of the Office of Guidance and School Counseling for the New York City Department of Education is a veteran social worker of over 25 years whose work has included community based family, individual and group counseling, private clinical practice, substance abuse counseling, programming for children of alcoholics, supervision and school social work. She is the author of American Library Association 2003 Best Book for Young Adults Bottled Up and is currently an adjunct professor of social work for the Fordham University Graduate School of Social Work.
Her current focus of work for school counselors includes increased professional development opportunities, communication and collaboration between the school based counseling disciplines, support initiatives for LGBT student and staff, social emotional programming beyond curriculum, and positive behavioral response.    The LGBT advisory board was ahead of its time in terms of the LGBT issues that surround us on a daily basis. Jaye developed  and oversees the Comfort Dog pilot program now in its second year in New York City schools.  Again, taking the lead and overcoming New York City Department of Education obstacles to pilot a program that helps students. She is currently leading the NYC Mayoral Equity and Excellence initiative Single Shepherd which pairs school counselors and social workers with students in low poverty, low graduation rate districts at an unprecedented 1:100 ratio.  Jaye developed and leads the Single Shepherd initiative in District 7 and District 23 which is now in its second years.
Being a school social worker in New York City is a daunting experience.   The responsibilities for making sure there is dignity for all races and identities, and genders and that we as school social workers teach, show moral integrity and demonstrate human compassion for that which is right, are what we do, as we work alongside educators for  a child's right to an education.
When one is a school social worker, one has to deal with not only the diversity of multiple cultural environments and school climates, but provide resources for students, which are often different from neighborhood to neighborhood. The responsibilities of the school social worker are vast and many. There are many political battles that make our jobs more complicated: with government resources being limited, being privatized and with resources not being there.  There is also  an educational battle  which effects the way we deliver our services, the battle is over  the benefits of public, private, charter and online education and how we as school social workers fit into these schools is not even discussed. There are political battles over state education mandates and  the use of professional licenses to deliver educational support services. There is a  rise in the needs of our school children, who battle learning in an environments fraught with social and emotional obstacles. Just two days ago,  New York City faced its second terrorist attack. Two students and two staff members were wounded on a school bus which was struck. One student was in critical condition. The emotional burdens we face as school social workers are heavy. We are the people responsible for working with children who are facing these difficult emotions.  Today we are awarding the Ruth Efron Schwartz  Award for 2017 to Jaye Murray.