Ruth Schwartz School Social Worker of the Year Award
Ruth Efron Schwartz was a School Social Worker who bettered the profession of School Social Work.  She believed in the importance of School Social Workers as well as helping the children and families in her care. Ruth often went the extra mile, including delivering coal to families' homes when needed. Ruth was a founding member of the New York State School Social Workers' Association (NYSSSWA).  She was responsible for picking the organization's colors i.e. blue to encourage students to reach for the sky, and white to encourage School Social Workers to be pure and true in their work with children.
In her honor, the Ruth Schwartz Award is given each year to a School Social Worker who exemplifies the qualities that Ruth Schwartz demonstrated throughout her career as a School Social Worker. The award reads "in appreciation to your commitment to the field of school social work and your dedication to the children and families we serve."
If you would like to nominate an outstanding School Social Worker who is dedicated to helping the children and families in his/her care as well as to advancing the School Social Work profession, please submit a Nomination Form.
---
2022 Awardee:  Jacqueline "Jackie" Sanchez Young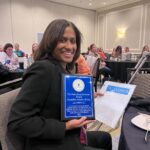 Jackie Sanchez Young works for the Public Schools of the Tarrytowns and has been described as a consummate professional who genuinely has a passion for working with children and families.  According to colleagues she is authentic, genuine, and compassionate, and these characteristics transcend all situations.  She spends every minute of her day supporting students, families, and staff members, and develops strong relationships with everyone she encounters.  Jackie pours her heart, knowledge and all of the resources she has into meeting the needs of students, staff, families and the community.  Read More.
---
2021 Awardee:  Kristina "Tina" LaMendola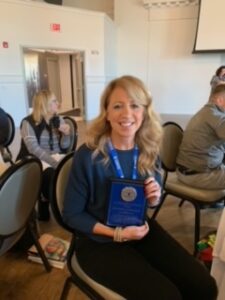 Tina LaMendola is a very dedicated School Social Worker who epitomizes the role. She is always stepping outside of her regular routine to better herself, the students she serves, school staff and the School Social Work community. She is tirelessly innovating to meet the needs of her students-running after school support groups which teach coping strategies, and involving the students in school wide mental health initiatives. She always seems to meet students where they are regardless of the situation, and this student-centered approach plays a crucial role in the overall success of our students. The connection that she has with students results in her being quite skilled at identifying students' needs as a whole.  Read More.
---
2020 Awardee:  Edith "Edie" Schwimmer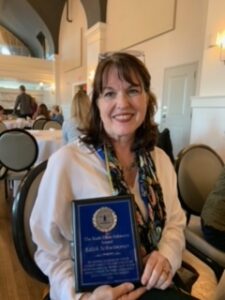 Edith Schwimmer is an exceptional clinician, fierce advocate for students and families, conscientious and collaborative colleague and incredibly valuable member of our school, community and profession. In addition to working with the students and families in her cohort, she participates in several building and district wide committees, runs a parent group for those with students on the spectrum, coordinates an annual fundraiser for families in need and is the de facto leader of the social work department. She is extremely committed to School Social Work as a field and has recruited, mentored and supported new people and positions throughout her time in the district. Her professionalism, skill, empathy, warmth, sense of humor and passion are remarkable and she epitomizes the potential and powerful impact a school social worker can have in an educational environment.   Read More.
---
2019 Awardee:  Paul Dischiavo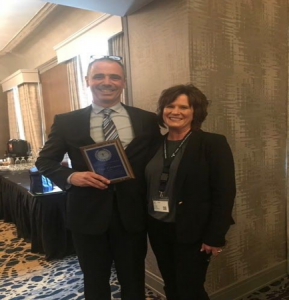 This year, Paul Dischiavo was selected as the 2019 recipient of the Ruth Schwartz School Social Worker of the Year award. Paul has spent the last two decades dedicated to the Mohawk Valley Region, his community, and his profession. He began his career as an elementary School Social Worker in the Sauquoit Valley Central School District and he remains there as the leader of the School and Wellness Community. His principal, Mark Putman describes his as "a constant wealth of knowledge who is student-centered and brings a much-needed perspective in how best to help students to be successful."  Read more. 
---
2018 Awardee:  Joan Conti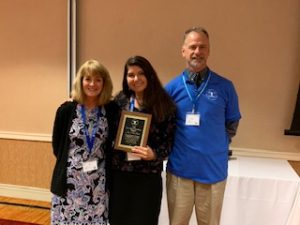 Peg Barrett and Tim Hummell award Joan Conti with the 2018 Ruth Schwartz School Social Worker of the Year Award.
(Description Pending)
---
2017 Awardee:  Jaye Murray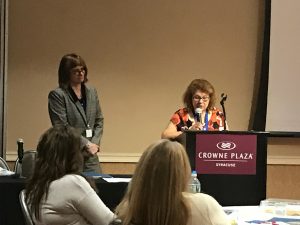 Julie Beatrice awards Jaye Murray with the 2017 Ruth Schwartz School Social Worker of the Year Award.
Being a School Social Worker in New York City is a daunting experience.  School Social Workers bare the responsibilities for making sure there is dignity for all races and identities and genders as well as tech, show moral integrity and demonstrate human compassion for that which is right as we work alongside educators for a child's right to an education.   Jaye Murray, serves as the Executive Director of the Office of Guidance and School Counseling for the New York City Department of Education who guides School Social Workers through this process.  She is a veteran social worker of over 25 years whose work has included community based family, individual and group counseling, private clinical practice, substance abuse counseling, programming for children of alcoholics, supervision and School Social Work.   Read more.