Articles:
Future Of DACA Affecting Mental Health Of Young Undocumented Immigrants   Martinez, N. 2018, January 5.  Houston Public Media University of Houston.
"Immigrant & Refugee Children: A Guide for Educators and School Support Staff"   "This guide was created for educators, school support staff and service providers who teach, mentor and help open the doors of opportunity for undocumented youth and unaccompanied and refugee children currently living in the United States. " Source:  American Federation of Teachers. (32 pages)
New York Immigration Coalition.  In addition to advocacy, the "NYIC provides multilingual informational materials on immigration law, citizenship requirements, school registration, healthcare access, and voting rights."
New York State New Americans Hotline:  1-800-566-7636 is available to anyone with immigration questions or impacted by ICE raids.
 "One Of The Nation's Poorest Districts Has Found A Way To Help Immigrant Students"      "Students in the Syracuse City School District speak more than 70 different languages and four of the most common among them are Nepali, Karen, Somali, and Arabic. "  "Schools are under federal pressure to translate for immigrant families. Here's how one of America's poorest school districts is trying to find a solution."  Editor's note:  Hopefully these are opportunities & services from School Social Workers or at least could be.  Source:  
  . The Hechinger Report. Reprinted by the Huffington Post.
"Resource Guide: Supporting Undocumented Youth"   Source:  U.S. Department of Education. October 20, 2015.  (63 pages)
  Guide to Higher Education for Undocumented Students.  Source:  6/1/2021 Best Value Schools
"Toolkit for 'Immigrant and Refugee Children: A Guide for Educators and School Support Staff' "   Source: Teaching Tolerance, Spring 2017
The Trauma Of Family Separation Will Haunt Children For Decades  By Stephanie Carnes, a bilingual licensed clinical social worker at a public high school in New York. 6/22/18
"You are Welcome Here: Supporting Immigrant Students and Families"  Source:  Winter 2017-2018. American Education, Vol. 41, No. 4. pp. 4- 15.

We Are All Immigrants:  Supporting the Success of Immigrants in New York   The state of New York provides numerous resources to assist immigrant families.  Source:  New York State,  ny.gov
---
The Rights of Immigrant Students 
---
---
Resources for Latino and Undocumented Families:
As School Social Workers who advocate for policy change, we have also included samples of district level resolutions to consider.  As districts review policy and guidelines  in supporting immigrant students and their families, be sure to "be at the table" during these discussions to include the vital role of the School Social Worker.
---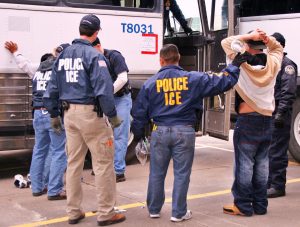 Establishing School Policies to Protect Immigrant Students
School districts across the country have been issuing resolutions and updating policies to protect students' rights in light of possible federal immigration enforcement activities in their schools.
Click here for web page of Resources, Articles and Sample Policies.
---
Legal Advocates
---
Supporting Immigrant Student Resources: 

NYSSSWA Membership Dollars At Work
The New York State School Social Workers' Association (NYSSSWA) is the only professional association dedicated solely to the visibility and viability of School Social Workers in New York State.   Members are essential to our ability to support you and our profession.  If you are not a member, join us today so we can continue to provide advocacy and services on your behalf.
Learn More About The Benefits Included in a Membership!