"Rebuild–Respond–Rejuvenate"
November 3 & 4, 2022
Albany Hilton Hotel

Join us in Albany for our fall conference and receive up to 12 social work Continuing Education hours.
(Photo by Discover Albany)
---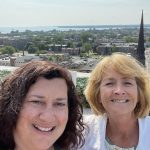 The New York State School Social Workers' Association would like to invite you to be a part of our 2022 State Conference to be held in Albany, New York at the Albany Hilton Hotel beginning on Thursday, November 3, 2022 to Friday, November 4, 2022. Join us for this training opportunity (up to 12 social work Continuing Education hours) that will enhance your skill sets and energize you to "Rebuild–Respond–Rejuvenate" and return home to continue the critically meaningful work you do every day to meet the needs of students, families and schools.   Now is the time to request and secure funds from next school year's budget.
Wendy Castiglia, President & Peg Barrett, Past President
---
Conference Handouts:

Attendees are responsible for printing and bringing their own handouts.     CLICK HERE to access conference handouts/powerpoint handouts.   Please keep checking back since I will continue to post as I receive them.  Presenters will be responsible for bringing their own handouts if nothing is posted prior to the Conference.
---
How Do I Obtain Conference Continuing Education Hours?
The provision of Continuing Education hours is a multi-step manual process. Nothing is automated so please allow 3 weeks for processing all components.  
In order to receive your Continuing Education certificate, you must do the following:
Register for Conference.  See Tutorials provided above for step by step assistance under "Registration:  Need Help?"  
Pay Registration Fees.
Attendance:  You MUST get "scanned in" and "scanned out" of EACH session to verify your attendance.  Your registration badge will have your QR code which will be scanned by NYSSSWA Board members to record attendance.
Evaluations:  NYSED requires evaluations for ALL Workshops/Keynote Sessions you attend.  After the conference has ended, complete the online surveys at: https://www.surveymonkey.com/r/57StateConf

The form is set up for you to flow chronologically from one session to the next.
Do NOT click "Done" until you have completed ALL evaluations or you will not be able to re-enter from that same computer.  You DO NOT have to start over but can access from another computer and complete your missing evaluations.  (We can combine on the back end but it requires more work.)

Certificates are individually released once all steps are completed and confirmed.
NYSSSWA Continuing Education Certificates will be stored and available for attendees to print as needed via their member account. See "How to Print My Continuing Education Certificate" for instructions.
If you have completed all components and after 3 weeks are still not able to access your certificate, please contact  member.services@nyssswa.org
---
Key Presentations: 
Among other topics:
"Ethics in an Epidemic:   by Dr. Jim Raines
"The Art of Becoming Indispensable–by Dr. Robin DeLuca-Acconi
"Expanding Beyond the Language of 'Equity' and 'Social Justice' " by Dr. Ebony Green
"Social Media and Its Impact on Child Safety" by  Chris Smith, FBI Investigator & Dr. Adam Morris
"Self Care Essentials:  by Dr. Sharlene Allen Milton, LCSW-C
See Complete Conference Program
---
Conference Rates:
See Conference Rate Chart.
Member: $399
Retired & Student Members: $349
Non-Members: $499
Thursday Only:  Members:  $275    Retired & Students:  $225     Non-Members:   $350
Friday Only:   Members: $275   Retired & Students:  $225      Non-Members:  $350
Early Bird: Register by September 22, 2022 and deduct $25.
Late Fee: Register after October 19, 2022 add $50.
---
Current NYSSSWA Members:   BE SURE to use the email account associated with your NYSSSWA account so that you will be provided the reduced membership rates as noted above. If the system doesn't recognize your email, try another one to see if your account is under a different email.  (You can always go into your profile and make contact information edits later.)   Contact Member.Services@nyssswa.org if you need assistance.
Non-Members:
We would like to invite you to join or renew your NYSSSWA membership and support the work we do to promote and assist School Social Workers in the State of New York.  As a member, you can save $15 off your conference registration.   See Member Benefits.
 Past members or School Social Workers in our database:   Sign in with your NYSSSWA account email address (even if it has changed–you can update later).  Your contact information should auto-populate and your registration will be linked to your account.  (Tutorials coming soon.)

New to NYSSSWA:

  

Everyone who registers for the conference must FIRST create an account.  Please use your email address as your "Username".   
---
Cancellation Policy:  There will be a $25 administrative fee for any cancellations prior to October 19, 2022.   This must be in the form of an email sent to Member.services@nyssswa.org.   After October 19, 2022, there will be no refunds.
---
Purchase Orders:
Purchase Orders can be faxed to: (315) 624-1266 Attn: Tricia Hoyer  or emailed to: purchase.order.request@nyssswa.org or Trish.hoyer@nyssswa.org

See "How To Print Your Invoice and Pay for Event" (Tutorial coming soon).   Be sure to provide a copy of your invoice to your district's accounts payable department for payment.   Please instruct your district to include your invoice # on any communications as well as the check for payment.
Send checks to: NYSSSWA,  264 Rider Road, Clayville, NY  13322   

NYCDOE Vendor Number:  NEW668575|
Click Here for W-9.

---
Need Help?
NYSSSWA has a new Membership and Event Platform with YourMembership. Here are a few tutorials to assist you:
How to Register for an Event
How to Review or Update Your Registration &/or Sessions
Invoices

Continuing Education Certificates



Join or Renew Your NYSSSWA Membership
Contact member.services@nyssswa.org if you need further assistance.
New York State School Social Workers' Association is recognized by the New York State Education Department's State Board of Social Work as an approved provider of continuing education for licensed social workers #SW-0057
---
Hilton Albany Hotel
40 Lodge Street
Albany, New York 12207
We are excited to hold the conference at the Hilton Albany Hotel.    "Our hotel is in the Capital District of downtown Albany, a five-minute walk from Times Union Center. Take in views of the Hudson River and New York State Capitol from your room, and enjoy our indoor pool and whirlpool. We're also less than eight miles from Albany Airport and within two miles of the Amtrak station."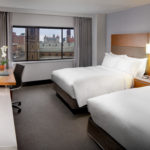 Parking Fee:  $11 per day
Deadline:   10/7/2022
Hotel Policies:    The "cut-off date" for accepting reservations is 10/07/2022.  Reservation after-5:00 p.m. local time will be at prevailing room rates.  Rates may not be changed at check-In or check-out for guests who fall to identify their affiliation at the time the reservation is requested.  Please note that once the NYSSSWA hotel block is filled, conference rates may no longer apply.
Room Cancellation: There are no refunds for early departures.  An individual guest may cancel a room reservation and avoid the reservation guarantee only if notice is received by the Hotel at least seventy two (72) hours prior to November 3, 2022.
---