2023
On August 3, 2023, Governor Hochul announced $108 million is available for school districts to support student well-being through expanding mental health supports.
"We need to invest more money. Allow for more hiring. Bring in these professionals. Help them [students] on site. Don't send them home and tell them to 'go see a therapist someday'. That's probably not going to happen.

Click Here for full report.
Photo Credit:  Flickr-Governor Hochul's Office
---
Governor Kathy Hochul Meets with NYSSSWA School Social Worker
As part of Governor Hochul's outreach to schools, on September 5, 2023 she visited Washington Irving School in Tarrytown N.Y where she met with School Social Worker, Jacqueline Sanchez-Young (NYSSSWA Westchester Regional Representative) .
Click Here for Jacqueline's report.
Photo Credit:  Pieced from video by "Sam" with Governor Hochul's office.
---
SB 54
On January 4, 2023 SB 54 was introduced by Sens. GOUNARDES, BRISPORT, PARKER, SALAZAR  stating: "every public school district in the state shall on and after July first, two thousand twenty-three employ and provide access to at least one licensed or certified school social worker in each of the schools under their jurisdiction"…
We are pleased that we have several new sponsors in the House and the Senate.  Our work continues!
---
NYSSSWA Testifies
In October, 2022 NYSSSWA was asked by the New York General Assembly to participate on the School Safety and Security Task Force.  Many thanks to so many of you who completed NYSSSWA's School Safety Survey which provided valuable information.  On November 3, Board member Dr. Robin DeLuca-Acconi, testified in Albany sharing your observations and advocating for School Social Workers and increased mental health services.  To read her testimony:
---
Current Policy and Social Justice Issues Related to School Social Work in NYS:
Members of the Legislative Committee continue to focus on collaborative efforts. NYSSSWA is excited about its collaboration with NASW-NY as well as the Clinical Society to increase student access to  licensed/certified school social workers.  Board members met with NASW-NY in January and February, 2022 prior to submitting a Joint Statement of Support  on February 17, 2022 to the General Assembly in support of  A5019 & S1969.
See Joint Statement of Support
---
For Information on earlier years and past bills:
See NY Legislative Archives for Past Bills
---
Advocacy Resources:
See   New York Advocacy   for information on how to contact your legislators.
---
Social Justice and Racial Equity
Senate Bill S2987A   (2021-22) Legislative Session: Declares racism a public health crisis and establishes a working group to promote racial equity throughout the state.  Signed into law by the Governor.
Social Workers Cannot Be Silent: Statement & Call to Action Against Racism & Race-Based Violence     Source:  Arendt. V. 6/1/2020. NASW-North Carolina Chapter
Over 750 Social Workers Unite at the Capitol to Demand Racial Equity in New York State Laws   Source:  Ponto, K. 3/5/2019. NASW-NYS
---
School  Counseling Amendments:
Do Schools Have to Hire More School Counselors?  "NO!"
There have been many inquiries from members regarding the school counselor amendments. School Social Workers are expressing concerns that their districts may feel compelled to hire more school counselors as a result of these regulations. That is not the intent of the regulations.    Please familiarize yourself with the regulations and details so that you can use your expertise to discuss the interpretation of the regulations with your district.

Click Here for Important Details
---
NYSSSWA membership dollars at work!  Thank you for your support.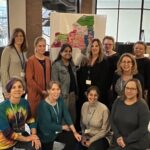 Not a current member?
Learn More About The Benefits Included in a Membership!
Need help?   See Tutorials.