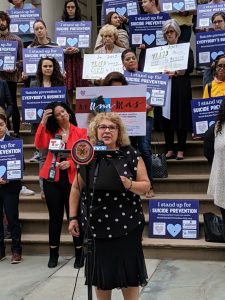 8/9/2019
New York School Safety Task Force Meeting
According to Julie Beatrice, NYSSSWA Board Member, of significance was the fact that 50 or so members of the committee were "clamoring" for the presence and involvement of more mental health services– social workers,  etc.   Julie will be attending a series of meetings representing School Social Workers.  See August's Full Report. 
9/10/19
World Suicide Prevention Day
9/10/19 Julie Beatrice, NYSSSWA Board member representing New York City (NYC) school social workers and psychologist with UFT.  Julie talked on the steps of city hall on how suicide is prevented when community organizations work together to prevent a young person from committing suicide.  See Press Conference: https://pix11.com/…/advocates-observe-world-suicide-preven…/
9/20/19
New York State Council of Educational Associates (NYSCEA) Meeting attended by NYSSSWA Board Member, Julie Beatrice.  See her report.