Come to Utica, New York!October 24 & 25, 2019
The New York State School Social Workers' Association is pleased to announce our upcoming 55th Annual State School Social Work Conference on October 24 & 25, 2019.  In an effort to reach School Social Workers from other parts of the state, we will be holding our State Conference at the Doubletree of Hilton Hotel in Utica, New York.   We are also changing the format slightly to begin Thursday morning and allow for some evening relaxation for our attendees.  (See Schedule of Events.)
Our Conference Chairperson, Wendy Castiglia-Amato, with Trish Zupan (our treasurer) and their committee have been working tirelessly, to put together a great lineup of clinical experts.  See  Final Conference Program.   (Remember to print and bring a copy with you to the conference.)   Click here for more Conference Details.
---
Some Conference Highlights:
Opening Keynote:   "The Evolving Student:  Increasing Diversity and Inclusiveness Through Empowerment"  by  Dr. Mark Montgomery
General Session:   "The Perfect Storm: Addictive Behavior and the Developing Brain.  Understanding Adolescent Vulnerability to Addiction and the Impact on Development"  by  Dr. Danielle Bronk
Closing General Session:   "Social Media Risks for Child Exploitation:  Strategies for children and adolescents"  by  Chris Smith (Investigator) & Dr. Adam Morris
---
Registration: 

  
Click Here for Full Schedule of Conference Rates .
Full & Associate Member:       Full Conference:  $350           Thursday Only:  $225            Friday Only:  $225
Retired & Student Member:   Full Conference:  $300          Thursday Only:  $200            Friday Only:  $200
Non-Member:                                Full Conference:  $450           Thursday Only:  $300           Friday Only:  $300
Current NYSSSWA Members who sign in with their membership email address will be provided reduced membership conference rates as noted above. BE SURE to use the email account associated with your NYSSSWA account with 123SignUp. If the system doesn't recognize your email, try another one to see if your account  is under a different email.  You can always go into your profile and make contact information edits later.   Contact Member.Services@nyssswa.org if you need assistance.
Non-Members:  We would like to invite you to join NYSSSWA and support the work we do to promote and assist School Social Workers in the State of New York.   You can register for the conference AND become a NYSSSWA Member for less than the Non-member rate.     You will be given an opportunity to join NYSSSWA as part of the Registration process.  Then as a NYSSSWA member, the  Conference Rates will automatically adjust to the member rate still saving you an additional $15. 
Avoid $50 Late Fee:  Register by October 11, 2019!
---
Doubletree by Hilton Hotel Utica
102 Lafayette St.
Utica, NY, 13502
"This Utica Landmark since 1912 has been fully renovated with today's amenities while preserving its vintage charm. Walk to famous restaurants, coffee shops, the Stanley Theatre, Utica's Adirondack Bank Memorial Auditorium and more. We're close to the North-South Arterial, Amtrak station, and just ½ mile from exit 31 on I-90 making us perfect for business travelers.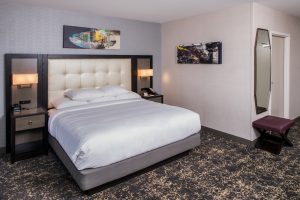 Our welcome begins with a warm chocolate chip cookie. Settle into a spacious guest room with complimentary WiFi and enjoy a 49-inch HDTV, fridge, microwave, coffeemaker, and desk with chair. We have many options including corner rooms with beautiful views, suites with large work areas, and studio suites with whirlpool tubs. This historic hotel was built to last, our guests enjoy the quietest comfortable night's sleep thanks to the amazing stone and brick walls from 1912."
Hotel Policies:    Standard cancellation policy for individual guest rooms is 48 hours prior to arrival date to avoid penalty. Cancelling within 48 hours of arrival will result in cancellation fee of 100% of first night's rate.  Please note that once the NYSSSWA hotel block is filled, conference rates may no longer apply so make your reservations today!
Room Rate: $124 plus taxes  (This rate includes Parking Fee)
Deadline:  Register by September 25, 2019 to receive the Conference Rate.  Please note, however, The special room rate will be available until September 25th or until the group block is sold-out, whichever comes first so register EARLY!
Phone: 315-724-7829  (Be sure to mention NYSSSWA to obtain the conference discount.)
Reservation Online Link:  Click Here
---
NOTE NEW NYSSSWA ADDRESS!!
Send checks to: NYSSSWA,  264 Rider Road, Clayville, NY  13322
NYCDOE Vendor Number:  NEW668575
NYSSSWA W-9
---
Conference Tutorials:
Here are a few tutorials to assist you:
How to Register for an Event
Utica Photo Credit:  Jmancuso of English Wikipedia
Hotel Photos provided by the Doubletree.